One of the most dominant web hosting providers today is A2 Hosting. Since their initiation in 2001, they have been providing reliable web hosting. A2 Hosting comes with an anytime money-back guarantee, which promises that you can get your money refunded if you don't like or are dissatisfied with their services. Along with that, they also provide you with excellent customer support and awesome hosting plans. So, if you are in need of a fast web hosting, A2 is what you should choose. Well, let's check some of their features down below.
Features of A2 Hosting:
Site Speed:
While choosing a hosting provider, it is quite essential to keep in mind about the load speed of a site. This is very important as over half of the visitors on your website will leave if it takes longer than three seconds to load the page. To ensure that A2 Hosting offers a simple Cloudflare setup from your cPanel control panel. It has also been found that the site speed of A2 Hosting is around 317ms, which easily puts this web host among the top 5 web hosts in the world.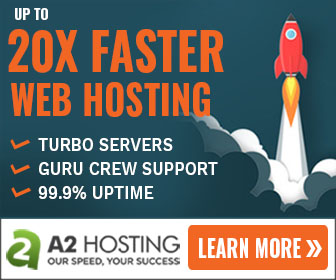 Uptime:
A2 Hosting reports uptime of 99.90%, which translates into the downtime of just under nine hours a year. The provider has actually done much better from what we have seen, with an overall uptime of 99.95%. These are remarkable figures considering that it is difficult to reach 100 % uptime, and no hosting company can guarantee that.
Security:
All plans offered by A2 provide a free SSL certificate. Along with that, they have created a Perpetual Security initiative, and this one goes above and beyond to keep the site secure. Because of this, your account also has free HackScan security, which works 24/7 to prevent your site from getting attacked. A2 Hosting Perpetual initiative requires a whole lot of other steps, and you can expect more exceptional stuff from the virus scanning initiative.
Support:
A2 Hosting has something called the "Guru Crew." This crew is nothing but the customer support staff of A2 Hosting. They named it as such because the staff is very knowledgeable, and along with that, they also have a lot of experience. If you face any issues, then just contact them, and they will solve your problems without delay.
A2 Hosting Plans:
Here are the hosting plans that are available with A2 Hosting.
 Shared Hosting:
Starting at a price of $1.25/mo. These plans are quite affordable and also have an uptime of 99.95%. Along with that, they also have quite a lot of features that make them quite useful for newbies and experienced webmasters as well. But if you have plans to increase the scale of your site, then you will eventually move out of it.
VPS:
These plans are available at $5/mo. And just like the Shared hosting plans. The VPS plans also guarantee 99.95%. These plans are said to be the best for Small business sites as they have quite a lot of features that are not included in the basic shared hosting plans, and on the other hand, they are quite cheap as well.
Dedicated Hosting:
These are the best and most potent plans that are available with A2 Hosting. They have a bunch of features that will shadow all the other features available on all the different hosting plans. These hosting plans are available from a price starting from $99.59/mo.
There are other hosting plans available with A2 as well, and as you can see, A2 offers quite a lot of exquisite features at meager prices. Hopefully, this has been informative enough for you.